NIGHT IN THE WOODS
---
NITW is a single-player computer game developed and designed by Scott Benson, Alec Holowka and Bethany Hockenberry. It is a game that tells a story and gives you choices to make, however, it doesn't require a lot of actions on top of walking, jumping and talking to other characters. When I was searching for inspiration, I thought of this game. I was willing to play it for a long time, and it was the best moment to finally play it.
And I not only fell in endless love with the story and the game itself, I also gained a lot of visual inspiration from it.
There are amazing detailed landscapes, both natural and rural, real and dreamy. The game is full of amazing dialogues, and it speaks about mental health problems, friendship, understanding your life and yourself.
In addition to the game itself, I have watched
Scott Benson's lecture on GDC
. During this lecture, he talks through the creative processes and gives advice to those who want to make a game. And of course, some of that advice is not relatable, as the lecture is not about board games. However, there are some useful tips for me.
Do game based on locations you know;

Rituals and Routines enhance the experience;

Make exceptions to your rules;
Let your main character keep journals (a useful storytelling tool);
Create emotions through the plot, not the facial expressions;


Moreover, the game actually shows how important the details are: the notes in the diaries, little pieces of dialogues, that increase your empathy, small details of locations, that tell much more than words can. This is a game carefully created as an artwork that people explore. And even though the world of the game is tiny and the playing time is around 6 hours, the amount of details gives you more, than any experience of a battle or a race can do.
---
KYLE FERRIS
---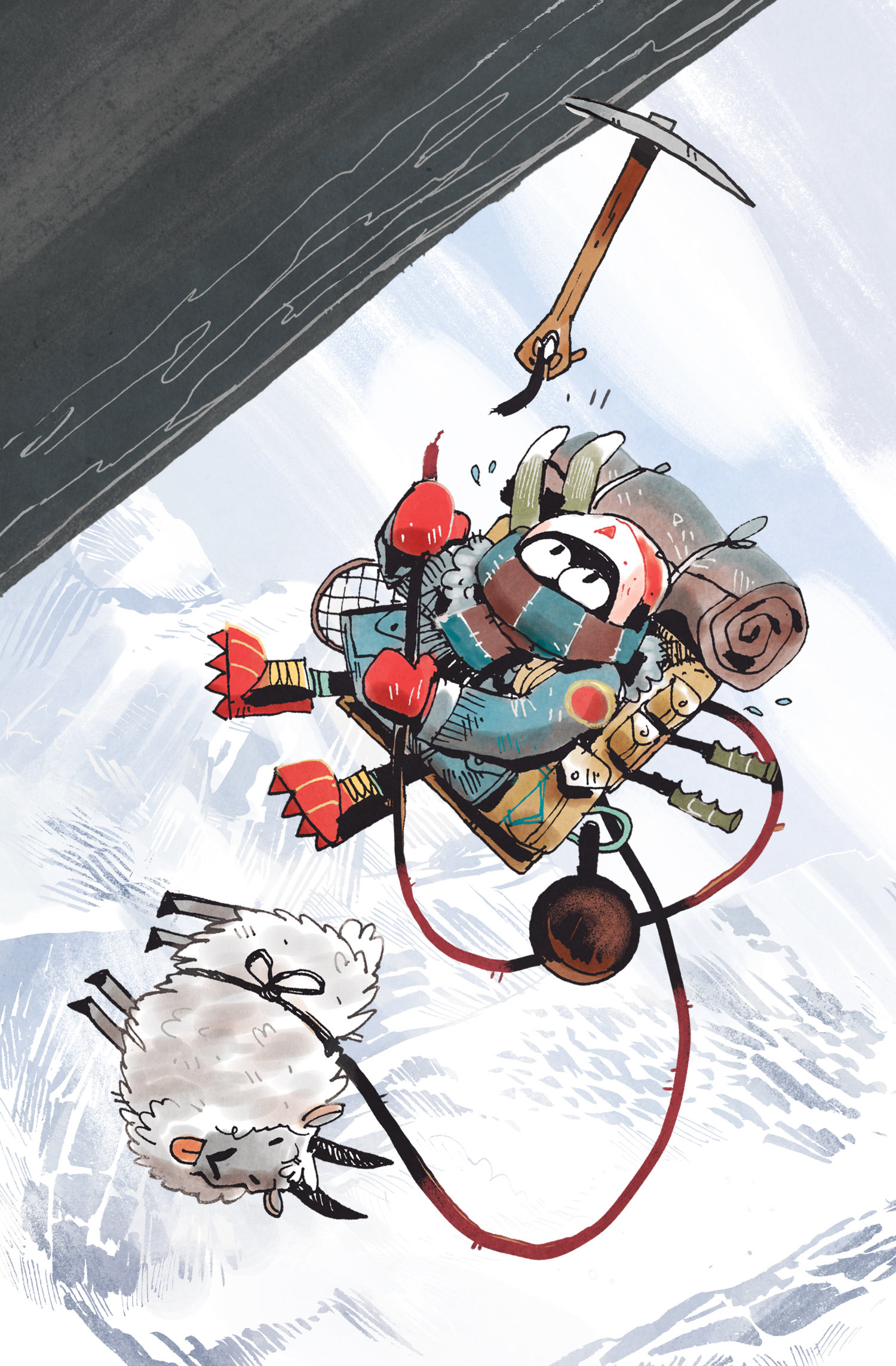 I have already listed Kyle Ferris works as my source of inspiration. However, after reading his interview, I would like to talk about him more.
As an artist in a board game micro-publishing
Leder Games,
Ferris is deeply involved in the process of creating mechanics, which gives him a chance to influence characters, which he will later be designing, and understand the game better. In his interview for
"More Games Please"
, he talks about his concept and design process in detail and gives fruitful advice for his colleagues.
These are some quotes from this interview that I found particularly useful for me.
"When the rules for each player are so different, players are choosing roles based on theme and aesthetic."

"How a game works isn't always immediately clear, but you can say a lot about what the players will feel like by giving them at-a-glance information through visual communication."

"The thing about board game illustration is that if you are working closely with the game designers then some things that you've worked really hard on getting axed. Play-testing reveals that a certain card doesn't work, or the production constraints restrict the number of tokens that can be printed affordably. It's better to have an overarching vision of what you want the game to look like than to be married to any particular aspect."

"As far as conveying a theme I think color is a wonderful way to do that, and that was my intent with the Root art."

I think such interviews as this one are even more valuable then examples of games or visual references. They are more like tips to follow.
---
JOE TODD-STANTON
---
One of my main inspirational illustrator Joe Todd-Stanton was my reference on the stage of researching different busy compositions. Though I ended up not using this approach, still, I included him in the research, as he influences me a lot.
---
LOTTA NIEMINEN
---
"Walk the World" project by Lotta Nieminen was the main inspiration for the idea of a big picture. I took the other approach to Situation Cards at the end, though.
---
STEVE SCOTT
---
One of the illustrators I've referenced for the busy compositions. He has interesting details and metaphors in his work, and sometimes you can find weird details, that can be relevant to my topic. Like a huge shampain bottle or an odd green bird character.
---
SCOTT BENSON
---
I kind of mention this artist twice on this page, however, I want to mention not only the Night In The Woods game but also other works of Benson. He doesn't influence my visual style for the game. However, his works were ongoing support and inspiration for me.
---
KIRSTEN SIMS
---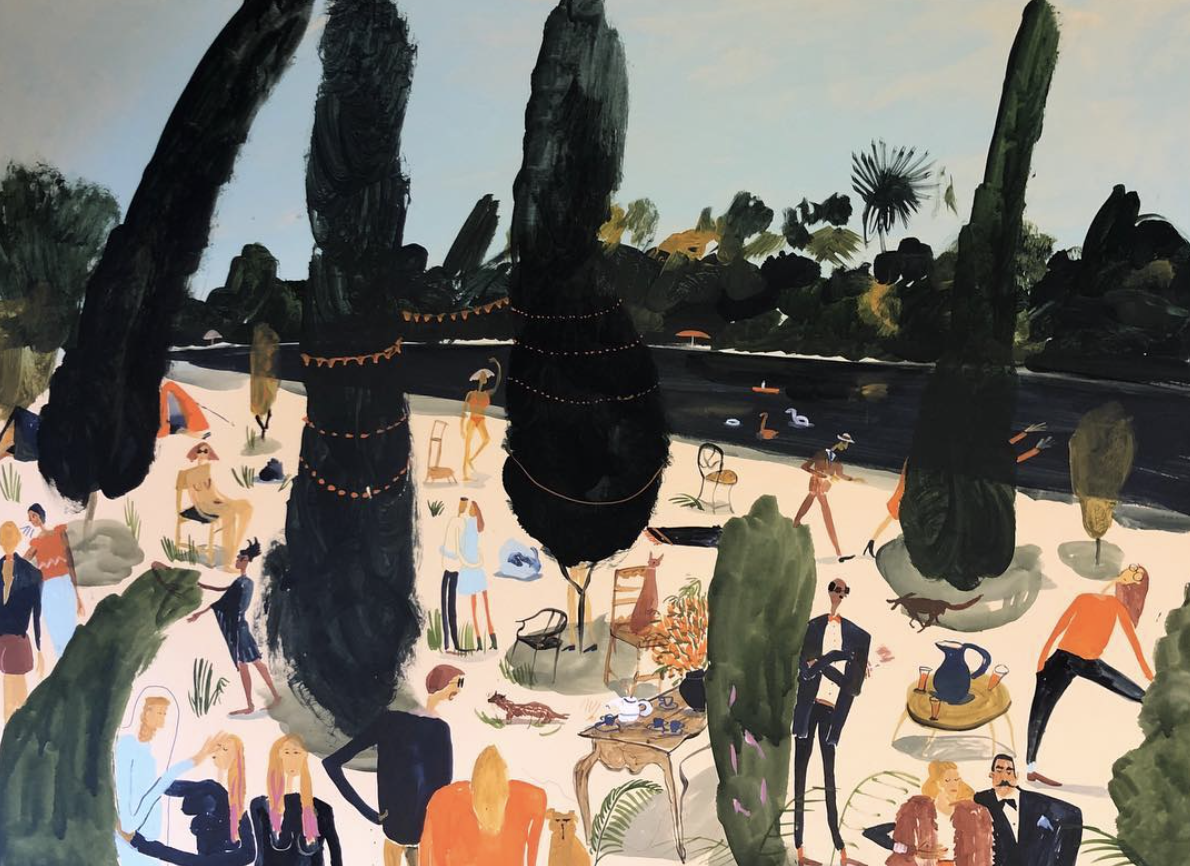 And one more artist from busy compositions research.
On one tutorial, Irina suggested me to research different timeframes to find the one that suits my vision of the final game. I am into vintage styles, and overall, I am not a big fan of contemporary aesthetics. So I've started thinking and looking for a suitable timeframe to borrow the overall style from. My final choice was the 1950's. Here are some inspirational photographs of that time.
I've tried to base the overall look of my characters based on the clothing style and hairstyle of the '50s. Later in the process for Situation Cards, I've also added furniture references, accessories, toys, objects and patterns.